Worker config
Under "Management" you will find Worker config option. This option will allow you to set up a custom configuration for either one of your workers or multiple selected workers and/or selected group/s. You will be able to select default miner, enable CPU mining, enable profit switch, and setup configurations for specific mining software.
Worker's config is divided into four major sections:
Target;
General;
Client's configuration;
Additional info.
Under the target you determine for which workers you want to save the configuration. You can select one or more groups of workers, one worker, or different workers.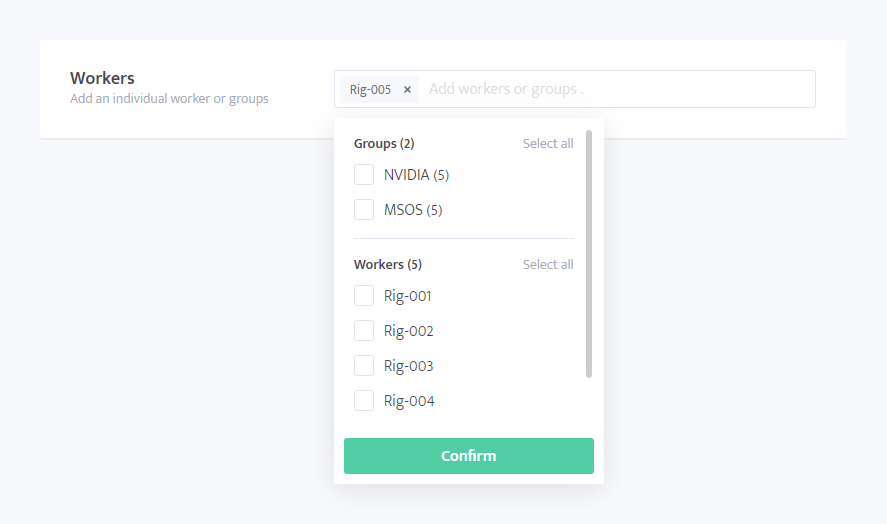 If you select a group of workers or multiple workers, note that empty configuration state will be loaded as different settings might differ between workers. In case you want to apply configuration from one worker to the other workers, first select one worker so that its configuration will load to the screen. Then add other workers or groups to the target list.
Including setting to the update
Each setting has a light square beside its name that changes to green plus sign once you click on it. By clicking on these squares you control which settings will be included in the update and which not. It is important to note that "unchecking" a setting doesn't mean disabling it, but only excluding it from the update.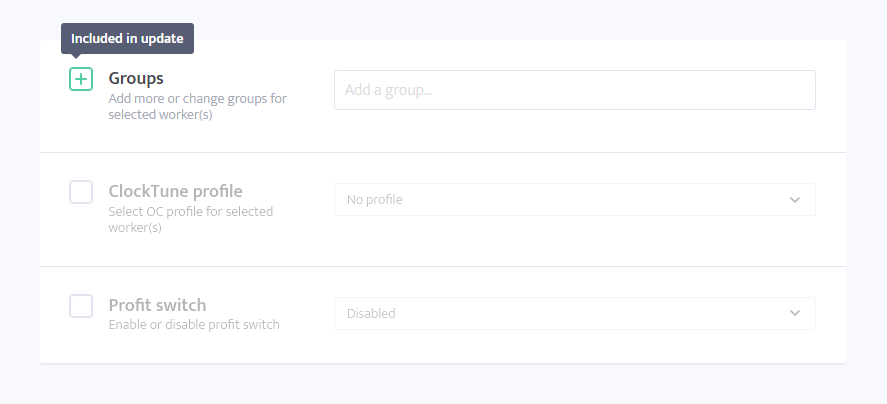 General
Under general, you can configure different general settings, such as:
Groups;
Disable or set ClockTune profile;
Enable/Disable profit switch.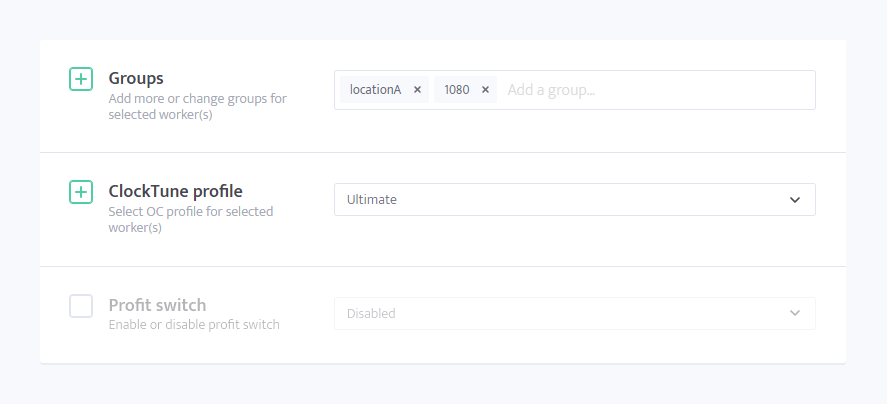 Do note that system and type groups are automatically added to the worker, so try to avoid using msos, asic, antminer, nvidia, and similar in this part of settings.
Client's configuration
Under client's configuration you can select proper mining clients that you want to use with mining and set up their configuration.
GPU mining rigs
For GPU mining rigs you can enable or disable CPU mining client and select any of the 30+ mining clients that are available for GPU mining.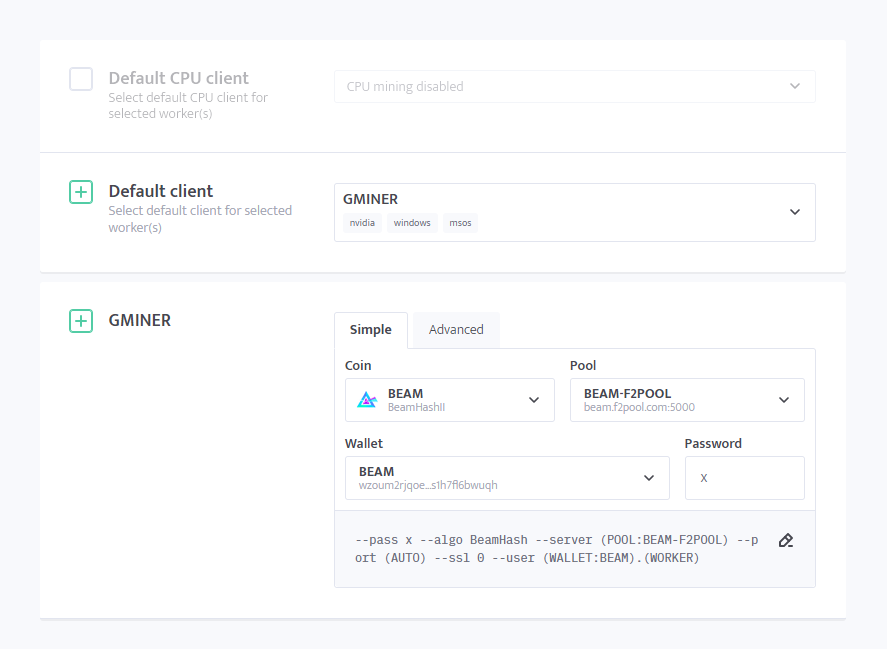 ASICs
All ASICs are using the same default client, which is called ASIC.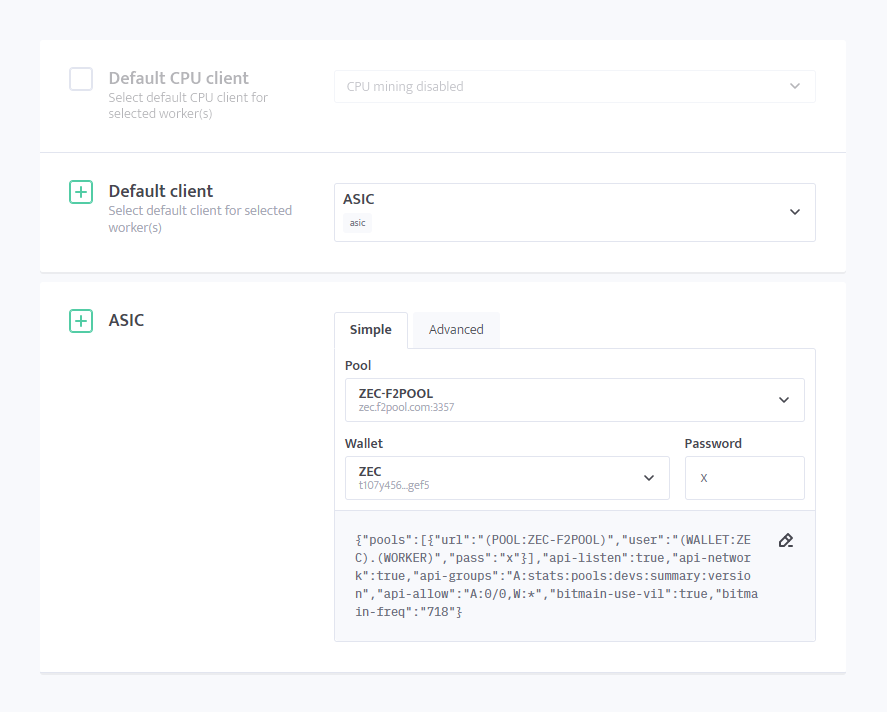 Additional info
Under additional info you can set your workers' electricity costs, power consumption, hot and very hot limits, and number of GPUs in the rig.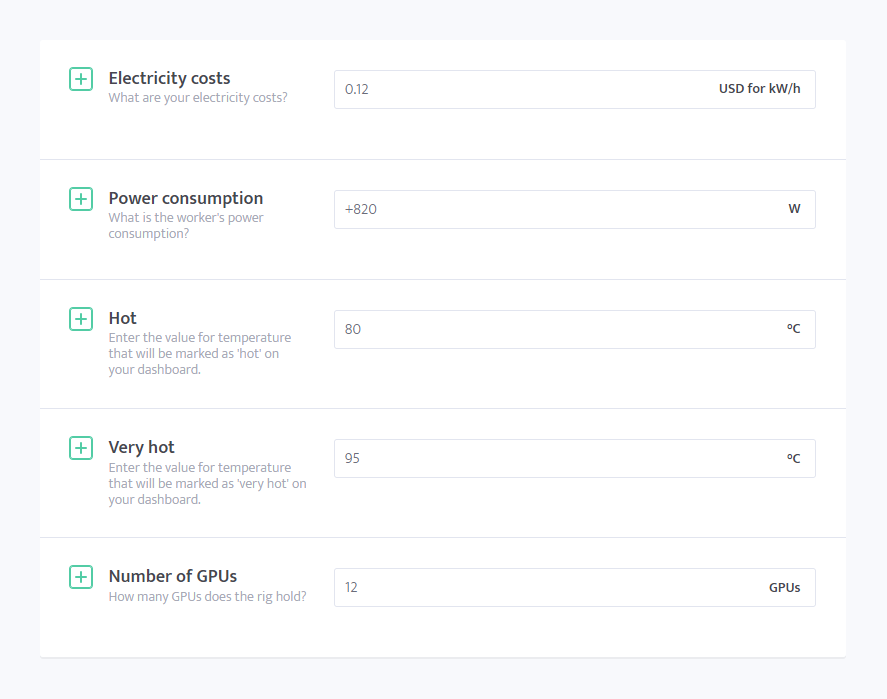 Revolutionize your mining operation with minerstat
It's easy and free to get started. Monitor, manage, and optimize your mining rigs with our powerful platform.
Sign up for free now