How to place your first order on minerstat?
Minerstat is mining monitoring and management software for rigs you already own. Before you are able to place an order on minerstat, you need to do two things:
You need to confirm your e-mail address. If your e-mail isn't confirmed yet, you can do that here.
You need to read the billing policy and if you agree with it, you can check the fields and proceed to the order page.
Billing policy
To ensure everyone understands what minerstat is before placing an order, we have introduced the following billing policy where you agree that:
I understand that minerstat is not a cloud mining service and that I need my own GPU or ASIC to use it.
I have tested the software and services; it works for me and I'm comfortable using it.
I understand that Paid plan doesn't come with a free worker and that minimum order amount is 1 worker.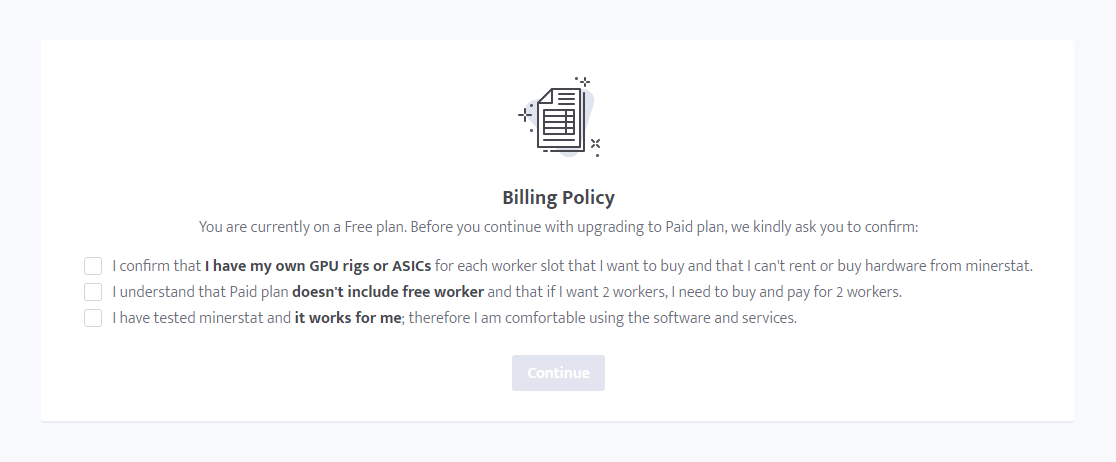 Billing order page
On the billing order page, you will be met with simple form where you can place your order.
Select number of workers
Include or exclude minerstat+ add-on
Select duration of account
Enter your personal data that is required for the issuance of the invoice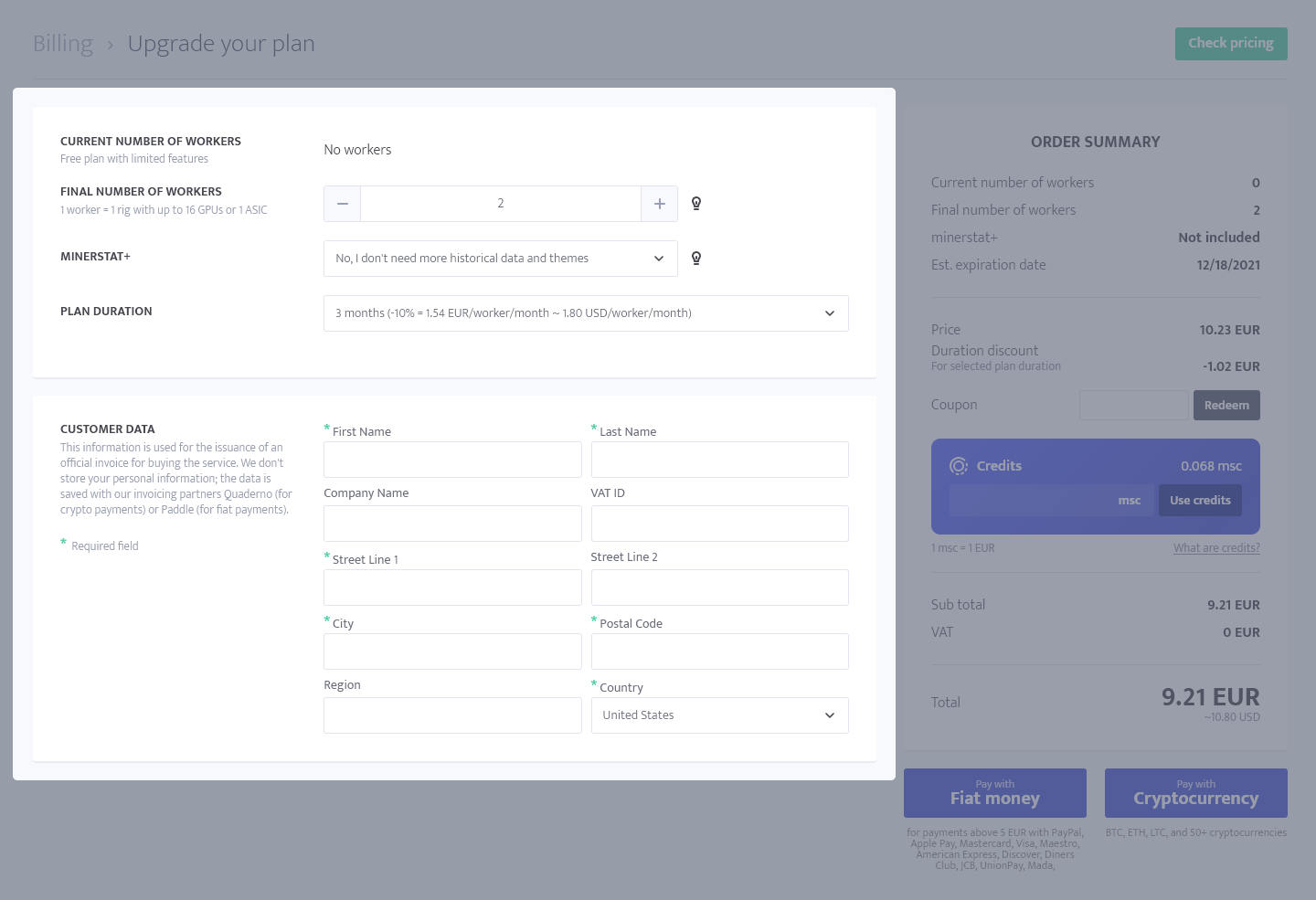 In the summary, you will be able to see all important information that you need to know before placing an order.
How many workers you currently have on your account
How many workers you get after upgrade
If minerstat+ add-on is included
Estimated duration of your account after upgrade
Price and possible duration and upgrade discounts
Option to enter coupon
Subtotal price, VAT, and total amount to pay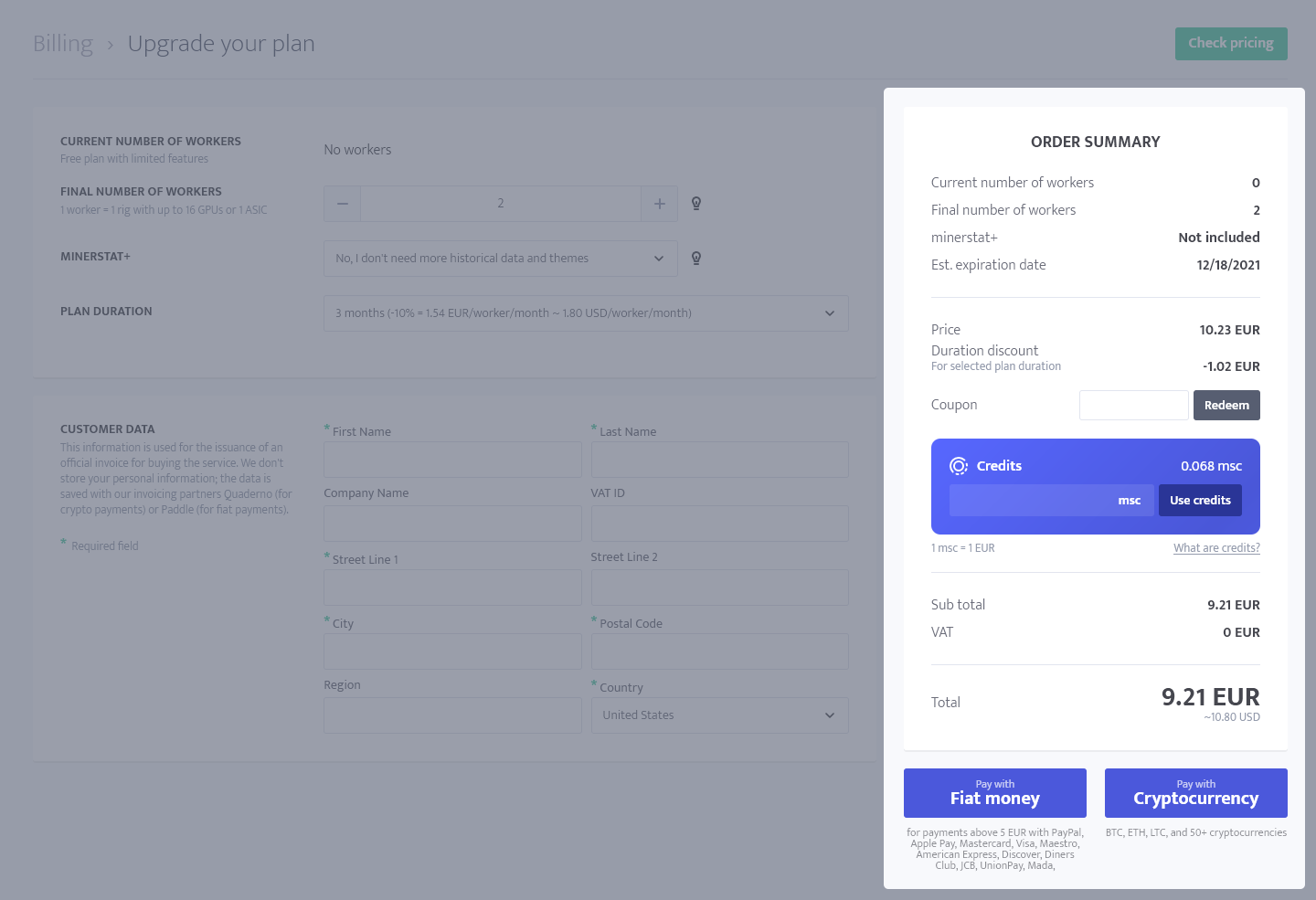 You can proceed to pay with PayPal if your total amount is larger than 5 EUR or you can proceed to pay with CoinGate.
By clicking any of these buttons you will be met with PayPal's or CoinGate's form for confirming the order. If you cancel the order, you will be returned to the minerstat dashboard page.
PayPal
For orders made with PayPal our invoice processor can take 30 minutes before the order is finally processed and confirmed. Please wait for e-mail from minerstat that will tell you that order was confirmed and invoice generated. After that you can use your minerstat account.
CoinGate
For orders made with CoinGate make sure that you have included the sufficient amount of fees and that your order is confirmed on blockchain within 20 minutes of placed order. If your order won't have enough fees or it will be paid after the time frame provided by CoinGate, the order will be marked as expired by CoinGate. When order is expired, you need to request the refund or ask for order confirmation on the invoice link CoinGate provides you.
It's easy to get started and it's free
Use minerstat software and improve your mining operation
Sign up for free