What is dashboard and where to find it?
The dashboard is the entry point to the remote management and monitoring of your workers. You can access it from my.minerstat.com.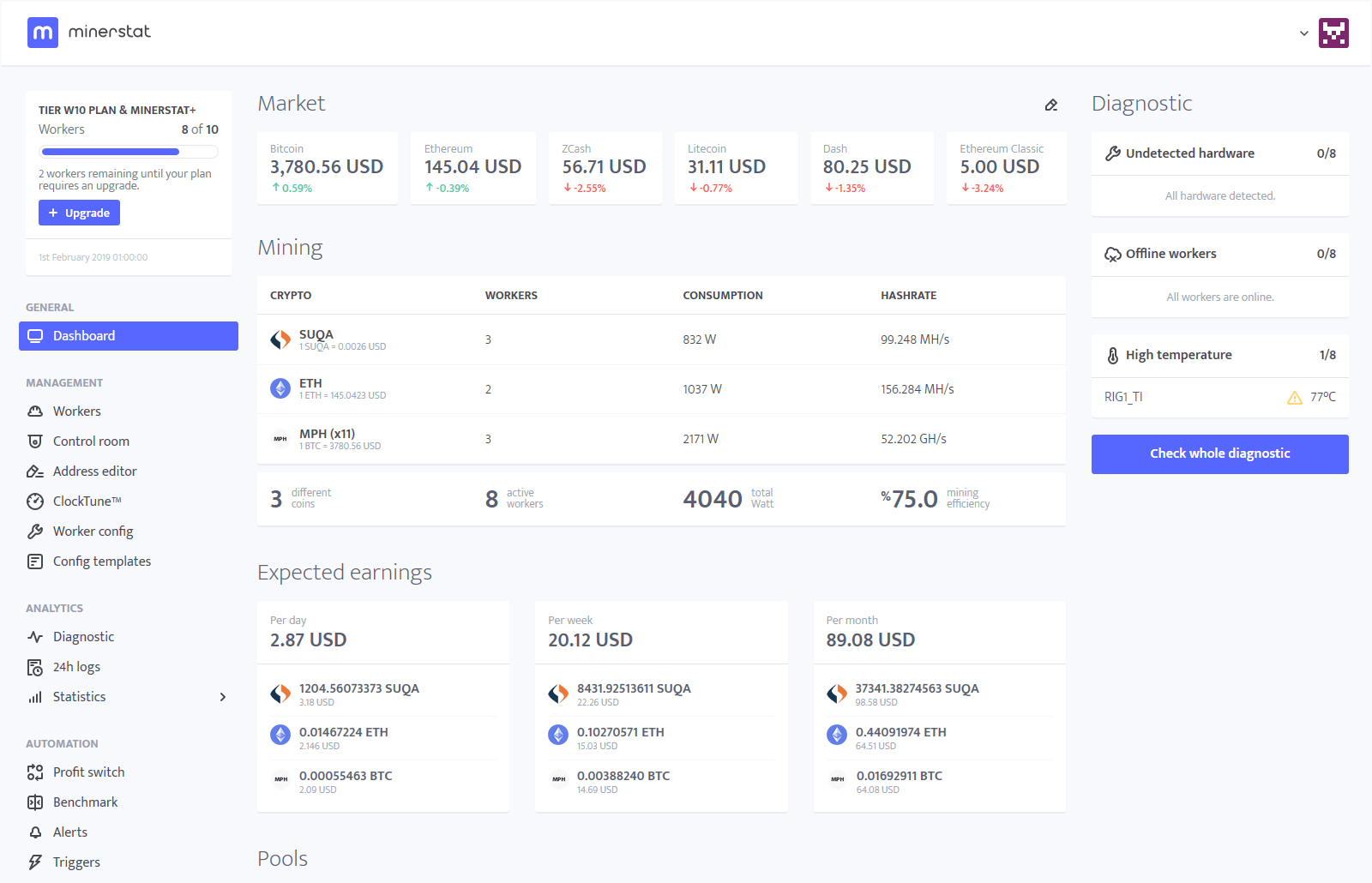 General
From the general submenu, you will be able to access the dashboard's first page that shows you current market status, the coins you are mining, the pools on which you are mining, top coins by algorithms, and short diagnostic report. From there you will be able to navigate to workers' list page and workers' profiles, control room, check statistics and troubleshoot with the help of 24h logs and diagnostic.
Under general you can also find link to tasks.
Management
The management menu offers you everything you need to configure your mining operation.
Workers list that shows all of your workers organized by pages with an option to filter and order them by different specifications;
Control room for organizing workers to fit the actual establishment and use this as a heatmap;
Address editor where you can keep all of your pools and wallets addresses;
ClockTune that allows you to save different overclocking and undervolting profiles;
Worker config that allows you to configure the mining settings of your workers;
Config templates where you can keep all of your favorite configurations paired with correct ClockTune profiles.
Analytics
The analytics menu offers you different statistics.
Diagnostic will show you critical states of your workers and account and help you find issues faster;
24h logs keep all events that happened in the last 24 hours;
Global statistics with global profitability, rewards, and hashrates for all of your workers;
Group statistics will show you profitability, rewards, and pools for different groups (excluding type and system groups);
Worker statistics will show you historical data of your profitability, rewards, temperatures, and efficiency for each worker separately;
Export data will allow you to export your historical data in JSON, SQL, or CSV formats.
Automation
In automation you can set different automatic settings to keep your mining organization in good health.
If you are interested in switching between different coins and multi-algo pools, you will be able to do under Profit switch;
Benchmark will allow you to gather the speeds and power consumptions of your workers on dozens of algorithms and mining clients;
Alerts will allow you to set up different events that you want to be notified about and to which channel;
Triggers will allow you to set up automatic actions when a certain event occurs;
The Scheduler can be beneficial when you want to mine at different times with different configurations.
Finance
Under finance you will find all links that help you find information on different financial areas.
Credits;
Link to minerstat's mining calculator;
Market cap, mining calculator, and coins will help you follow the current status on the market;
Link to minerstat's list of coins.
Under the tools, we have gathered all interesting and useful tools that you can use.
Custom clients allow you to implement custom mining clients for your msOS rigs;
AMD Memory Tweak is a special tool for AMD GPUs that changes different memory parameters on the go;
AMD strap editor is a special tool for AMD GPUs that generates different straps you can use.
Revolutionize your mining operation with minerstat
It's easy and free to get started. Monitor, manage, and optimize your mining rigs with our powerful platform.
Sign up for free now