MSI Afterburner
MSI Afterburner is one of the most recognized and used tools for GPU overclocking. It is also a tool that is used with the Windows Node and ClockTune on the minerstat dashboard.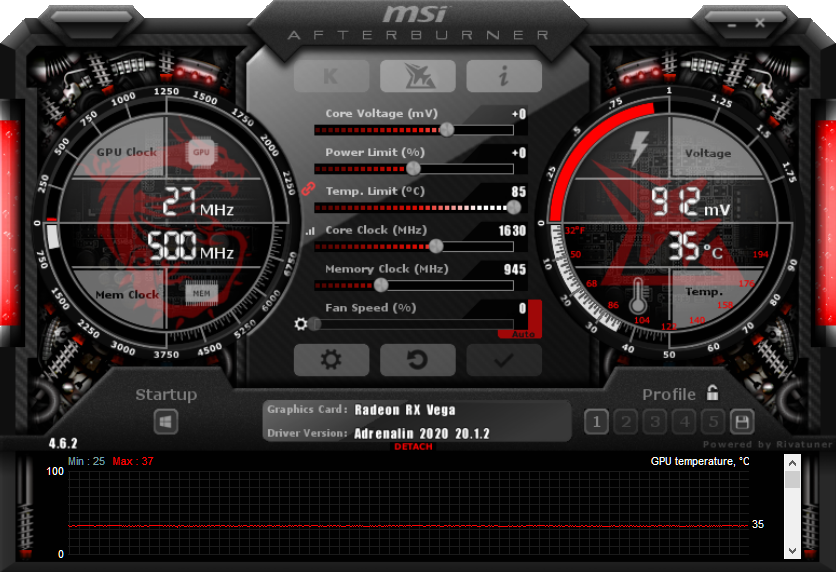 MSI Afterburner is free software and works with both AMD and Nvidia GPUs and allows different settings:
Settings of clock speeds, voltage, and fans.
Hardware monitor: that shows critical hardware information in real-time; temperature, usage, clock speed, and voltage.
Custom fan profiles: By defining a custom fan curve.
On-screen display.
Custom user skins.
MSI Afterburner download
You can and should download MSI Afterburner from the official website.
How to use MSI Afterburner
After you install and run MSI Afterburner, you are allowed to set up different settings. If you are using Windows Node, you can set up (almost) the same settings through ClockTune, but make sure that Afterburner is running nevertheless.
Regarding which GPU brand you are using (AMD or Nvidia), different settings will be available:
Core voltage
Power limit
Temp limit
Core clock
Memory clock
Fan speed
As for the values to enter, we suggest you follow the suggestions provided by the manufacturer. If you are testing different intensities, we suggest increasing the intensity gradually, starting with safer values first. For RTX 20 cards, MSI offers OC scanner which will find the values for you. You can read the tutorial and users feedbacks here.
Was this article helpful?