How to validate hashrate?
To validate your hashrate you can check the hashrate reported by minerstat, the miner logs, and values on the pool. Let's explore and compare what the values reported by each of the three are and what they mean. We'll be using Ethermine as example in this article, but the process is similar with other pools.
All three hashrate reportings will be similar and you can check here what to do if they are not.
Minerstat
On the worker's page, and on the dashboard you can see the currency being mined, the reported hashrate, the efficiency, estimated earnings.

Mining client
For the mining client, you can use the Snapshot in the System Specs to see the reported hashrate of the miner, which is the same as minerstat reports. Alternatively, if you're on windows and have access to the rig, you can use the console window of the miner to see the reported hashrate. On msOS, you can use the remote access and commands agent or miner to see the logs of the miner reported in real-time.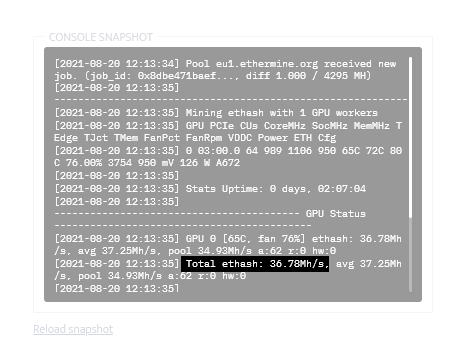 Pool
First of all, we need to open the pool website and navigate to our user's page.
With a lot of pools, minerstat provides a shortcut to the dashboard of the pool so the user can click it and see personal mining stats on the pool, depicted under the "pool" column, next to the pool address you're mining on.
The example below is a screenshot from Ethermine.

You can see on the picture three different figures reported under "Hashrate". Reported is what the mining client reports and is the same as seen in the client itself and minerstat. Current is the hashrate calculated based on the number of shares the miner submitted in the latest 15 minutes, while average is based on the shares submitted during last 24 hours.
Revolutionize your mining operation with minerstat
It's easy and free to get started. Monitor, manage, and optimize your mining rigs with our powerful platform.
Sign up for free now